How to Increase Engagement By Playing Online Team Building Games
Oct 20, 2022 | Guul Games
Video games are the most entertaining way to spend some free time. Also, people want to spend their free time with others to engage and fun. This is exactly why people play online team-building games. They're fun, and they help to increase engagement in your remote team. Online Team Building Games come with benefits such as increasing collaboration, innovation, team bonding, and problem-solving ability. Also, it significantly impacts productivity, profit, and retention of employees. Let's examine how to take advantage of Online Team Building Games to increase engagement.
Why is increasing engagement in workplace is important?
What is Employee Engagement in 2023?
Employee engagement is when employees genuinely feel their work is important and valuable, not just a job. It occurs when employees started to believe the team and relationships. It is stated that "62% of CEOs say retention of high performing staff is a leading challenge" by Dr. Pamela Byrne.
In order to increase engagement, there are three things that businesses can do to help their employees:
Being a good leader will help to boost engagement and motivation by demonstrating leadership skills through example, coaching, and communication.
Making work valuable is essential for employee engagement, which leads to higher productivity and less burnout.
Focusing on the big picture ensures that employees feel like their work has a more significant impact and are less likely to switch jobs.
It became more challenging for businesses to retain top talent
Employee engagement is on the rise, but it's still more common to find disengaged workers in a business environment than engaged ones. This is why it became more challenging for businesses to retain top talent. Some of the challenges that companies are encountering when it comes to retaining top employees are:
Unhappiness: When employees are not happy in the work environment, they suffer from the motivation to work.
Lack of career development opportunities: Having a purpose in the company to obtain different skills is important for employees' career development.
Poor company culture: Employees that feel they belong to their company culture and vision are more likely to have better job satisfaction. Creating a valuable company culture is key to retaining top talent in businesses.
Quiet resignation is a real threat
According to Gallup, at least %50 of the U.S. workforce is quiet quitters, which is a threatening number for businesses to consider. Companies that are aware of the engagement level of their employees can use it to know if there is unrest in the team. Engagement surveys can be held in specific periods to understand whether there is a problem among employees. Engagement surveys help to predict possible issues in the future. They show your team members' interest in the project and their level of commitment. Low engagement means your employees are not feeling part of the team, which may lead to quiet resignation. Good communication with employees, a high engagement level, and providing good work/life balance opportunities are crucial to avoid quiet resignation.
Why do companies need engaged teams in the workplace?
Engaged teams are one of the key factors of any organization. If a team is not engaged, they are not performing well. It can be highly costly for an organization to have disengaged teams. Engaged teams boost productivity and are more likely to stay with the organization. Engaged employees also feel a greater sense of communication with the team and other employees. Therefore, it increases team teamwork to drive a more successful and profitable business. Increasing employee engagement is helpful in decreasing absenteeism in the workplace by ensuring an environment where employees want to come rather than fill the working hours.
What are the advantages of online team-building games?
It is clear that employee engagement in the workplace is the foundation for positive, and productive work relationships. Companies that work remotely should utilize from online team-building games to make the work efficiency better.
Why do we play online team-building games?
Online Team Building Games are good choices for employees to use their advantages. There are reasonable answers to the question, "Why do we play?":
Helpful to build team connections and foster collaboration.
Fun to forget daily stresses and continue working with higher morale.
Interactive to keep employees happy and engaged.
Bartle's Player Types
Bartle Test of Gamer Psychology allows you to determine specific characteristics of employees. Do employees want to finish the job or learn new things? Do they like to work alone or with others?
In this test, people are categorized under Player Types: Achievers, Socializers, Explorers and, Killers.
Achievers: They care about the achievements, results, and scores. Showing their progress is essential for them.
Socializers: They enjoy interacting with other players in the game to find a collaborative environment. The majority of the players lie in Socializers category.
Explorers: They like to explore and learn new things in the world of the game. Being involved in the storyline of the game makes Explorers fun.
Killers: They are competitive and ambitious to win the game. Winning the game motivates Killers.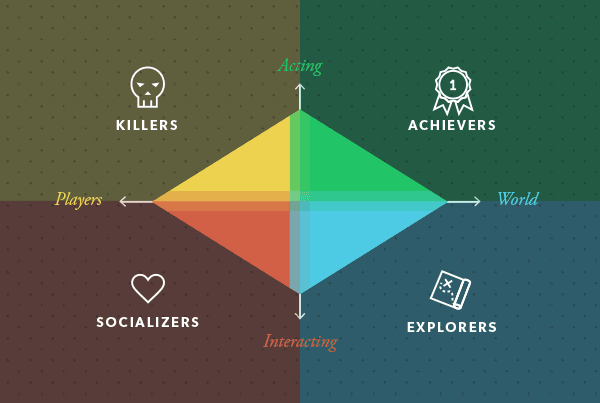 Knowing employees' player types is an advantage to leading them easily. Employees that are Achievers and Killers want to finish their jobs as soon as possible to see their results of them. Explorers want to learn new things to improve themselves while working. Socializers become more productive and collaborative when they are working with the team.
Why are Online Games better than other communication tools?
Online Team Building Games allow to create an interactive experience that makes communication easy for employees. Games also help to increase team spirit, which can be a strong force in remote work environments. Online Team Building Games are an excellent tool for remote teams because they allow you to create a team-based experience that can be adapted to any location. Communication with remote teams is helpful in increasing well-being of employees.
How to take advantage of online events over offline events?
Organizing an offline event for employees is time-consuming and needs high effort. Also, locational problems occur when trying to meet with employees in different locations. Online events remove the borders for your team. It allows for building an environment in which everyone participates easily. Making participation accessible is key to increasing engagement. Choosing activities that are entertaining but also ones that help to solve business problems will be beneficial for the unity of the team. Choose an event type that will suit your team's interests and needs. Fulfilling the team's needs and organizing online events are helpful in creating a good company culture to increase job satisfaction.
What do online team-building games bring to employees? Below are some of their benefits.
What are the benefits of online team-building games?
Increases Collaboration and Innovation.
Employees can play online games with each other by solving puzzles, completing quests, and building complex structures to help increase collaboration and innovation. In a recent research by ESA, it is reported that 81% of video game players say: "Video games can inspire people." When employees collaborate and innovate more, they can complete tasks in shorter times. Also, employees find different ways to solve problems with innovative ideas that can create value for the company.
Boosting Employees' Mood
Employee motivation is worth considering when it comes to maintaining the operations of the work. Mood is one of the factors that boost human performance. Online Team Building Games create an impulse for employees to carry the job one step forward by making them happier and more productive. When employees are more engaged with the help of online games, they finish their duties with less complaining in shorter durations.
Increasing Employee Retention
When employee retention tends to decrease, productivity level also declines. New employees require time to get used to the job and team. Therefore, it causes a disruption in operations. Increasing employee retention helps to decrease the costs of employee hiring processes. Online Team Building Games can be used to build a strong connection between team members. This can be a powerful force in remote work environments. Strong communication means a rise in retention because it creates a sense of belonging to a team. When employees believe in the team they are working with, they become more involved with the job.
Increasing Productivity
Do you have employees who are constantly online but never get anything done? Are they always talking about the past or the future but never actually doing anything? If you have employees who are less productive, there is an urgent need to find solutions to increase their productivity. One of the efficient solutions is implementing online games that can boost productivity in their working environment. When employees are more productive, they'll be able to handle more work. Handling more work in less time means fewer hours spent at work to equalize their work/life balances.
Rising Revenue of Company
If your employees are trying to sell a product or service to other businesses or customers, you want them to be in a good mood when contacting other people. Employees with poor spirit and less desire have difficulty selling products to generate revenue. Having a team that is willing to increase the income of the company is important for profitable growth. When the sales team relaxes the mind with the help of the games, they are more willing to reach the customers and sell the products.
Improving Problem-Solving Ability
Companies facing difficult problem statements need to improve how to solve real-life problems and develop creative solutions. Employees focus on this problem-solving ability through online games that includes problem-solving steps to help employees approach issues together. When they start to think more strategically, it becomes easier to implement practices to the solution of the problem. Games that focus on problem-solving get people out of their comfort zones and force them to find solutions outside of the box.
Online Team Building Games are Ice-Breakers
Online team-building games are an excellent way to break the ice with new colleagues, clients, and business partners. It can also make it more accessible to find new friends and partners for your hobbies. Playing get-to-know games such as "two truths and a lie" is a good introduction game to play. This is a fun way to break the ice and get your team members ready for more serious activities together. When everyone starts to feel comfortable with expressing their ideas, it becomes easier to work and complete tasks in an engaging environment.
You decided to benefit from online team-building games, and you may still wonder, "How to implement them in my company?" There are some solutions to apply.
How to set the perfect plan for increasing engagement with online team-building games?
Create a Gamers Club in Your Workplace
If you work at a company that encourages healthy competition between employees for their development, you can create a gamers club in your workplace. Gamers clubs are an awesome way to give your team members a chance to bond over something they all love. You can form a gamers club around different events such as video games, sports, and board games. This can create an opportunity for employees to do something they enjoy. Also, they can join tournaments organized among companies to show their talent and teamwork.
Trivia is Easy and Fun
Trivia is a fun and quick way to break the ice with new colleagues and business partners. Depending on your type of trivia game, you can be more creative with your questions to make the game more fun. You can find trivia questions for almost any topic with little research, making this game adaptable for any group. Also, you can include some questions about your company to build a company culture.
Create Daily Short Wordles
Word puzzles are a good way to create entertaining and spare time for employees. You can create daily word puzzles with various themes, such as current events or popular movies, to think about different cultural or vocabulary topics. Employees also can learn new words and topics while they are having fun.
Add Online Team Building Games to Employee Reward System
If your company has an employee reward system, implementing online team-building games is a good idea to create engaged teams. A leaderboard system can show the ranking between colleagues for games. Each leader in specific periods may be given bonuses, benefits, and gifts to award and encourage.
Provide a Creative Environment for Employees
Providing a creative work environment is one of the best ways for businesses to boost engagement and productivity. When there is an environment where employees work and think more creatively and open-mindedly, employees start to show their potential to make work better. Providing gamification tools that push creativity and online team-building games with creativity purposes are solutions to create that environment.
Prepare Zoom Games
Preparing zoom games allows employees to get together and play in video meetings. Teams that work by texting without visual communication need to meet with colleagues through video conference. When zoom game sessions are prepared, employees get a chance to meet colleagues to have fun. These sessions are helpful in establishing bonding and company culture in your remote team.
Meet Guul: A on Demand Games Platform
Guul allows you to play real-time board games for businesses as a virtual team-building activity inside your Slack and Teams workspace to motivate your remote team. You can instantly choose board games to play with your team, such as backgammon, chess, checkers, and minesweeper. Start increasing employee experience today with Guul for free!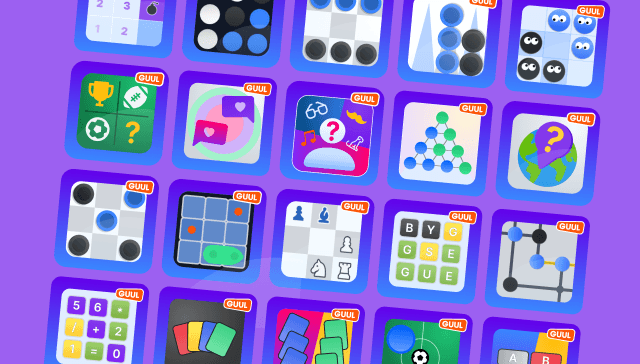 Conclusion
The success of the teams and company comes from motivation and engagement. The best way to boost engagement is to give your team members something unique and exciting to explore outside their typical work environment. Identifying the needs of the teams and finding solutions for them is an essential step for their happiness and experience in the workplace.
---
Boost your engagement and grow your culture in your workspace
Guul is free for up to 10 players. Feel free to sign up and try Guul's
fun team-building games today
PLAY NOW
Play online games with
coworkers in real-time
Free forever