Guul Predictor: Boost Friendly Competition in Your Remote Team
Jan 16, 2023 | Guul Games
Are you looking for a fun and interactive way to bring your remote team together and boost morale? Guul's Predictor Games might be just what you need! They provide an exciting way to experience special sports events and offer the opportunity to test your sports knowledge and compete for the top spot on the leaderboard. In this blog post, we'll explore the benefits and features of Predictor Games and provide tips on how to get started with your team.
What are Predictor Games?
Predictor Games are a sub-category of Fantasy Games, which includes company-wide games like Premier League Score Predictor, Formula 1 Predictor, NCAA March Madness Predictor and Oscar Predictor. Fantasy Games offers a long-run game experience for your team to have fun and interact.
Predictor Games are games in which players predict the outcomes of upcoming sporting events. Players make predictions before the start of the event, and points are awarded based on how accurately they predict the results. The player with the most points at the end of the event is the winner.
Predictor Games provide friendly competition and an opportunity for players to show their sports knowledge. They increase team interactions and conversations by allowing people to discuss upcoming sports events.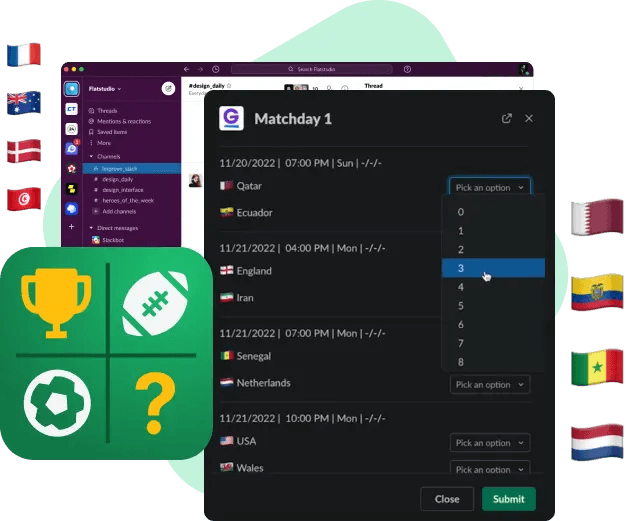 Rules and Point System for Predictor Games
Rules for Guul Predictor Games are straightforward. Here are some notes for the rules and point system.
The round of games is named Matchday. You can see the available predictions for matches inside Matchday. The number of Matchdays is determined according to the format of the tournament.
You can only predict and change your predictions before a game starts. Be sure that you have submitted your prediction before the game.
There are some Bonus Questions to predict the outcomes of the tournament. One of the examples for Bonus Questions is 'Which team will score the highest number of goals?' Also, you can only submit your answer for Bonus Questions before the tournament begins.
Check the point system for Predictor Games:
Guess the exact score = 5 points
You couldn't guess the exact score but you predicted the goal difference correctly = 4 points
You only guessed the winning side correctly = 3 points
Each correct bonus question = 5 points (Wow!)
Benefits of Predictor Games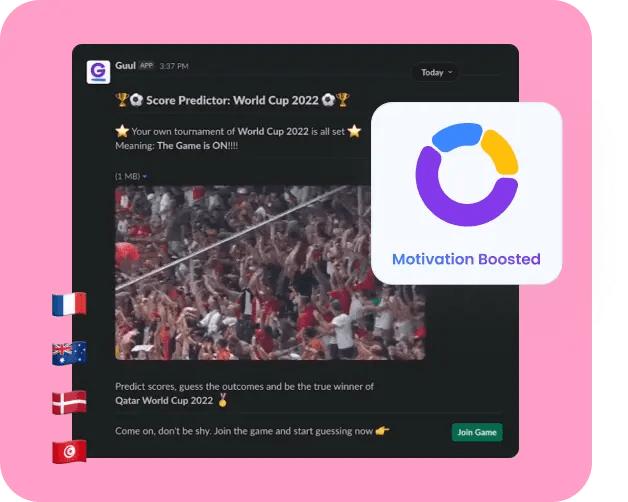 In addition to being fun and entertaining, Predictor Games have several benefits for teams. We have listed four benefits of Predictor Games:
Improves team morale: Predictor Games provide a shared experience that can bring team members together and improve team morale. They create a positive work environment for your team.
Develops better communication and collaboration: Predictor Games develop an opportunity for team members to discuss and share ideas and opinions. This helps build stronger relationships and improve communication and collaboration within the team.
Enhances team-building: Predictor Games can foster a sense of community and connection among team members, even when working remotely. This can build stronger team dynamics and improve team cohesion overall.
Increases employee engagement: Predictor Games offer a competitive element that can drive employee participation and engagement. You can encourage participation by providing rewards for the game winners.
Let's look at the rewards that can be offered to the winners of the Predictor Games.
Reward the Winners of Predictor Games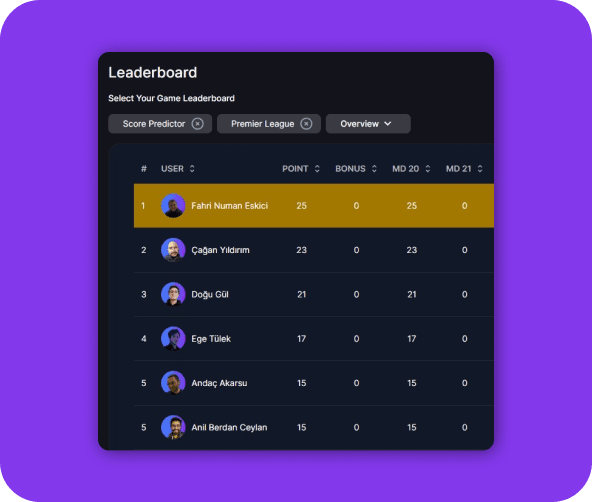 Rewarding the winners of Predictor Games can be a great way to add an extra level of excitement and motivation to these games. There are several ways to reward the winners of Predictor Games, depending on your budget and the size of your team. Here are a few ideas:
Consider offering gift cards to top performers in Predictor Games. For example, Amazon Gift Cards and Steam Gift Cards can be good options to reward your employees.
Gift baskets and company merchandise can make your employees happy by making them feel special.
Offering development programs and digital courses is a good idea for rewarding your employee. It is an excellent way to show that you care about their personal development in their work.
You have learned Predictor Games, their rules, benefits, and reward suggestions for your employees. The last but most fun step is starting to play Predictor Games. See these easy steps to start the competition!
How to Start with Guul Predictor Games?
If you haven't installed Guul to your Slack Workspace, check our article on 🔦 How to Install Guul to Your Slack Workspace?

After the installation of Guul, find Guul App in your Slack.

On the Home page, click on the "Game Scheduler 📱" section to schedule Predictor Games.

Choose "Predictor" from the dropdown menu. The game preferences modal should appear as follows:

Choose your channel and competition to start playing Predictor Games. You have successfully completed the setup of Predictor Games and are ready to have fun with your friends!
Conclusion
Guul's Predictor Games are a great way to bring fun and competition to your team's interactions. Not only do they provide an opportunity to bond and engage with one another, but they can also improve team morale, motivation, and communication. If you're looking for company-wide games to play with your team, Guul's social gaming platform is a great platform to help you get started. So why wait? Get your team together and start predicting!
---
Boost your engagement and grow your culture in your workspace
Guul is free for up to 10 players. Feel free to sign up and try Guul's
fun team-building games today
PLAY NOW
Play online games with
coworkers in real-time
Free forever