10 Ways to Create Weekly Game Day for Remote Teams
Nov 23, 2022 | Guul Games
Remote work has its advantages, but it also comes with many challenges. Teams working from different locations may have difficulties socializing and collaborating. A remote team needs more than just meetings to thrive: Engagement. Engagement takes an important place when companies want to attain success. They need a game plan when they are working remotely. Remote teams will benefit more when they set weekly game days as part of their remote culture strategy. Here's how you can create your own weekly game day setup for your remote team.
1. Meeting Free Day
Many companies have a corporate culture where team meetings happen every day. However, this may not be the ideal case when it comes to the performance of employees. A recent research found that spending too much time in meetings hinders 67% of employees from being productive. To increase employees' focus, "Meeting Free Day" is a pre-determined day that there is no meeting in the company. With the help of this practice, employees can organize their own plans to work without interruptions of meetings. Also, your weekly game day may be scheduled on the meeting free day. Since your teams do not meet for business purposes, there is no reason to meet to play online games! This helps your employees to free their minds about work tasks and creates an opportunity to have fun with their team. You can talk to your team to determine the meeting free day that fits everyone and implement weekly game day into it.
2. Support Employees' Work-Life Balance
Employees who have complicated tasks may find it hard to balance their work and life. Companies should provide flexible work hours and a task-oriented work environment so that employees can adjust their schedules and duties when necessary. Also, it is essential to consider the needs of remote employees to ensure their well-being. Employees can stay healthy and focused on their jobs when they have the chance to take care of themselves and their families. Creating weekly game days is helpful for promoting employees' work-life balance by giving them an opportunity to have fun with others with the exact engagement needs in remote work. Follow these steps to improve your employees' work-life balance:
Allow them to set boundaries with work
Set specific and achievable goals
Support employees to take time for themselves
3. Organize Sessions about the Benefits of Online Team-Building Games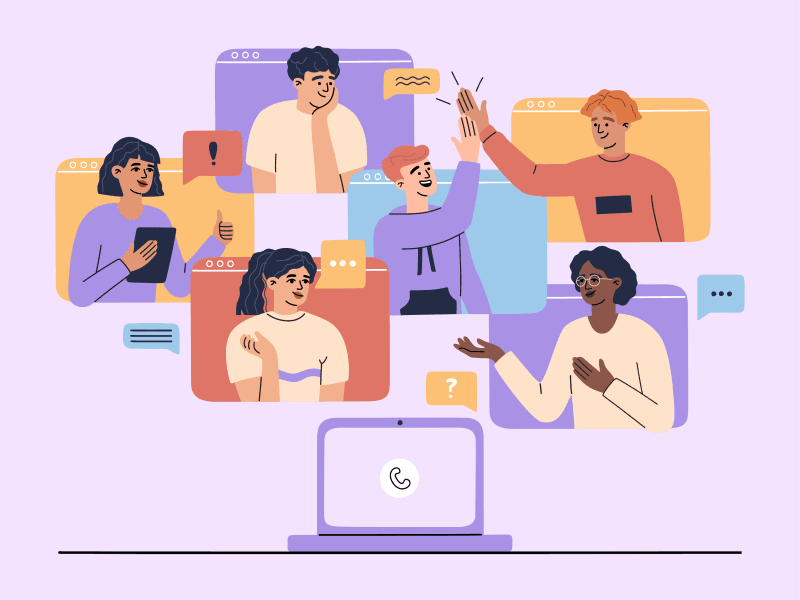 Remote teams that are working in different departments can become isolated from others. Sometimes employees may find the chance to hold a meeting between teams. However, when these teams do not get together, you need to find a way to bond with them; otherwise, they can be demotivated easily. To make employees feel included, you should create an environment where they can interact socially. Online team-building games can be a great way to bond with remote team members who don't meet in person frequently. It is important to benefit from online team-building games. Also, organizing sessions to discuss their benefits allows employees to get familiar with online team-building games. When managers start to make an effort about isolation problems of remote teams, employees will develop a sense of belonging to the company. You can encourage and create an opportunity for your remote team members to play online games on a game platform. In order to ensure that all of the teams feel connected while playing games, you can choose games that everyone can play and enjoy.
4. Build Teams for Online Games
Are your employees skilled in online games and enjoying to play them? Consider building teams for online games to increase collaboration, teamwork, and communication without locational problems. These teams can play online games when they have free time to relax. A great number of online game activities and e-sports tournaments are held for different games. Since there is a variety of options to play, online game teams may find a few games that they will enjoy. Also, joining e-sports tournaments with your team may be a good event to compete with other companies. This creates a valuable opportunity for teams to improve their morale. Increased motivation in groups is a great driving force for them to make an impact on their work productivity.
5. Create Game Leaderboard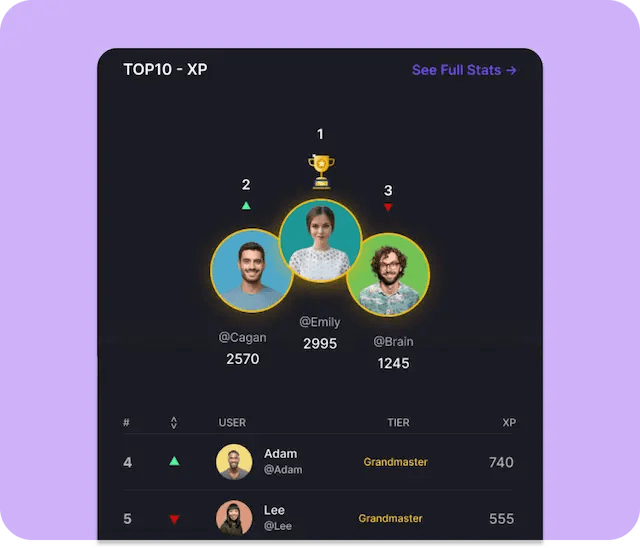 When remote teams start playing online team-building games, some employees want to see their success and achievements in games. Setting up a leaderboard for games is a good idea to motivate employees who want to track their game data. Also, the leaderboard can create a healthy competitive environment where people want to challenge others to have fun. You can implement game leaderboard to employee rewarding system to give bonuses and gifts to top-scoring players on the ranking. Rewarding is very helpful in creating a company culture that every employee wants to contribute.
6. Organize Local Social Events
Many employees in companies that work remotely may be located in different locations in the country or world. When some of the employees are located in the same cities or closer locations, it is an excellent idea to host local social events for your employees to bring them together. Here some of the ideas to organize face-to-face events for employees to feel included and social:
Arrange a dinner
Go to concerts
Buy tickets for sports competitions
Go to theatre and cinema
When remote teams are met in person, it will contribute to their team bonding. Also, local social events is helpful to enhance employees sense of belonging to the company. After meeting face-to-face, employees want to maintain this engagement in remote workplace. Also, do not forget your employees who want to socialize and cannot join local events due to locational problems. Creating weekly game day is a great way to fulfill their needs for social meetings.
7. Allow Employees to Chat After Online Meetings
Long online meetings can be difficult for remote teams when they spend most of their day in video conferences. Also, it is possible to feel isolated, and they cannot find a chance to make regular conversations with colleagues. When team members complete online meetings, they can talk about their daily stuff. Therefore, employees can relax and find a time period not to think about their tasks. Encouraging teams to chat and play online team-building games in their breaks is a good way to create an environment where everyone can feel included. Employees can become more comfortable in their workplace when they play online team-building games. Also, a relaxing atmosphere in the workplace advances their efficiency and motivation to work.
8. Be Inclusive
Working in an inclusive environment is one of the key aspects of creating a productive and healthy workplace. Welcoming all people and respecting them is extremely important for ensuring that they feel belong to the company culture. A positive work environment is a formula for a business to be successful. One simple step to make employees included and happy in their teams is to increase bonding between colleagues. It is possible to contribute well-being and bonding of the company members through online team-building games. Employees can find a chance to meet and have fun when they come together with their teams to play online games. In a survey named Positive aspects of playing video games in the U.S. 2021 published by J. Clement, 87% of the respondents stated that they felt belonged to a community as a positive experience of online games. Therefore, providing an environment where co-workers can access online team-building games easily is helpful for a healthy workplace.
9. Every Day is A Game Day
It is possible to make every day is a game day! Rather than deciding on a weekly game day for employees, you can create an opportunity for them to socialize every day. Games like daily wordle, sudoku, and crossword puzzle are good alternatives to play when you are on break in work. Employees can talk about topics that they are interested in games and collaborate to solve the quizzes.
10. Meet Guul to Create Weekly Game Day
After some search and readings, you have decided to provide a platform for employees to create weekly game day. Still, don't you know which platform to use? Guul is here to fulfill your needs for remote teams to play and create online team-building games in seconds. You can benefit from Guul's features and motivate your remote team. Boost engagement in the company by creating a happy and enjoyable workplace.
Conclusion
Remote teams are unchanging parts of many online businesses. However, these teams can become isolated from each other, which can be detrimental to the productivity of employees and the work culture. It is possible to solve the challenges of working remotely. By implementing weekly game day into your team, you can boost the engagement and communication of your remote team members. Taking care of the happiness and well-being of employees is crucial for companies to be successful.
---
Boost your engagement and grow your culture in your workspace
Guul is free for up to 10 players. Feel free to sign up and try Guul's
fun team-building games today
PLAY NOW
Play online games with
coworkers in real-time
Free forever